Strengthening Connections One Day at a Time
---
PA Family Support Alliance developed the Families in Recovery program to provide support and education to families, parents, and children who have been touched by addiction and are living in recovery.
This comprehensive experiential and educational program attends to a variety of challenges and experiences common to parents in recovery, including identifying strengths, needs and resiliencies; exploring healthy parenting in balance with recovery needs, understanding the person-focused and family-centered changes process; promoting healthy parenting and communication styles; developing healthy coping skills and modeling self-care; coping with guilt, shame and stigma; and developing a personalized family blueprint for overall wellness.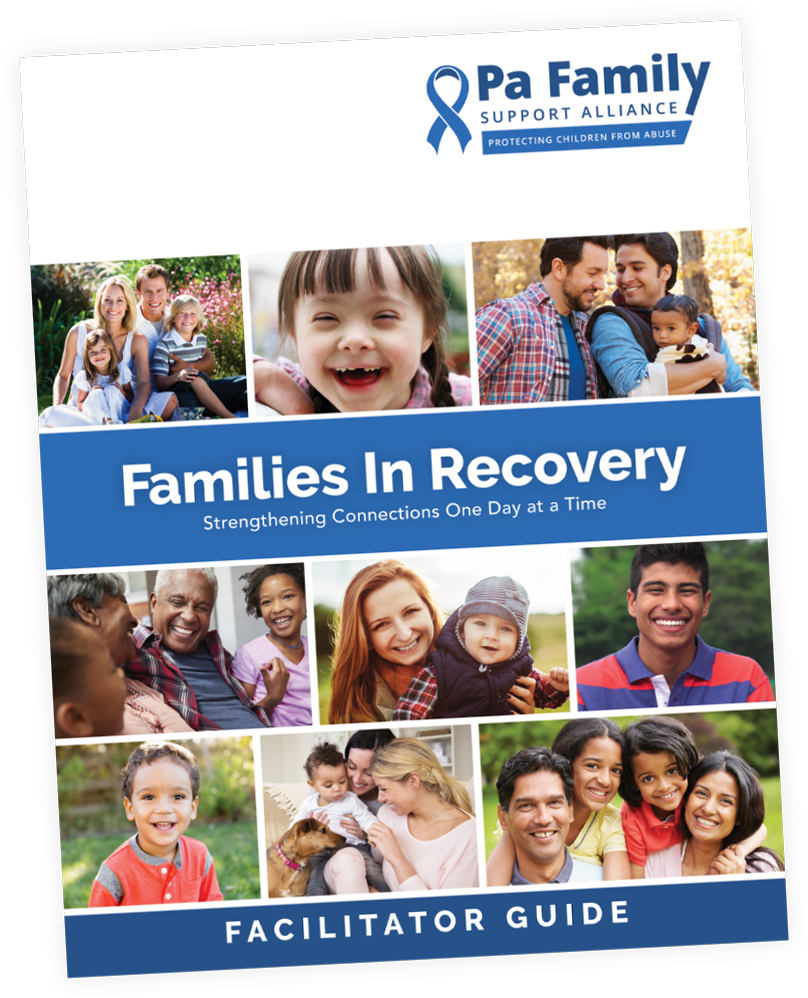 Program Highlights
Theoretically integrative framework with a holistic strengths-and-needs approach
Promotes self-efficacy, resilience, and empowerment
Inclusive, culturally sensitive, and supports a variety of approaches to recovery-wellness
Support and education for parents on how to manage emotions and develop sustaining and healthy relationships
Trauma-informed, family, and person-centered; easy to individualize
Promotes holistic wellness of parents, caregivers, and children
Encourages and identifies the importance of developing social connections and increases knowledge of parenting and child development
Designed to be delivered in seven sessions at two hours per session with flexible structuring to be adapted to meet your program needs
Appropriate for use in group settings including:

Inpatient and outpatient treatment
Parenting collaborative and groups
Family support programs

Over 50 pages of valuable content and workspace to be used experientially within a group or on an individual basis
Participant workbooks are accompanied by instructor manual to support and guide facilitators from various disciplines and education backgrounds
Instructor manual features supplemental resources: icebreakers, activity suggestions, and handouts
Informed by and inclusive of The Strengthening Families Protective Factors™
For more information about the Families in Recovery program, please contact: jdonofrio@pafsa.org.