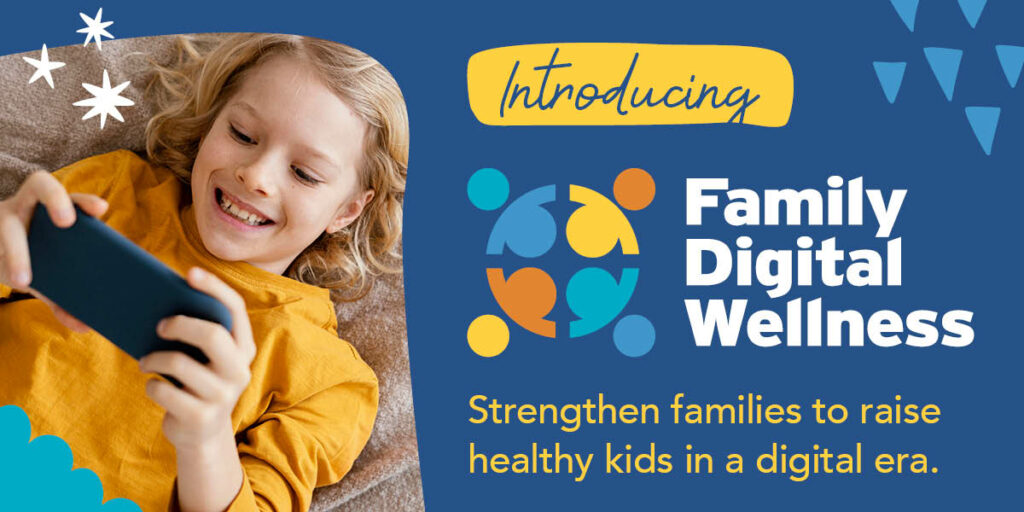 The foundation of our society and economy is now grounded in the digital world, and the COVID-19 pandemic has only accelerated this trend. A March 2022 survey released by Common Sense Media, found that children and teens are spending more time than ever before on digital devices. This survey found children ages 8 to 12 spend on average five hours and 33 minutes on screens, and teens ages 13 to 18 spend eight and a half hours on screens per day.
While there is an emphasis on protecting children online from predators and preserving kids' mental and physical health, a piece of the puzzle is missing. Now that we are immersed in the digital world, it is imperative to equip parents and families to recognize warning signs of digital threats and to create healthy relationships and interactions with digital technologies in order to prevent abuse and future harm. This is why PFSA has developed the Family Digital Wellness initiative.
Family Digital Wellness: An inclusive, supportive, and preventative approach aimed to strengthen families in raising healthy children in a digital era.
---
Did You Know?
69% of U.S. children have their own smartphone by age 12.
70% of kids encounter sexual or violent content online while doing homework research.
1 in 5 youth ages 10-17 received a sexual solicitation or were approached online.
40% of children in grades 4-8 say they have chatted with a stranger online.
20% of teens have sent or posted nude or semi-nude photos or videos.
About 7 in 10 parents think smartphones could bring more harm than good to children.
66% of U.S. parents say parenting is harder today than it was 20 years ago, with many in this group citing technology as a reason why.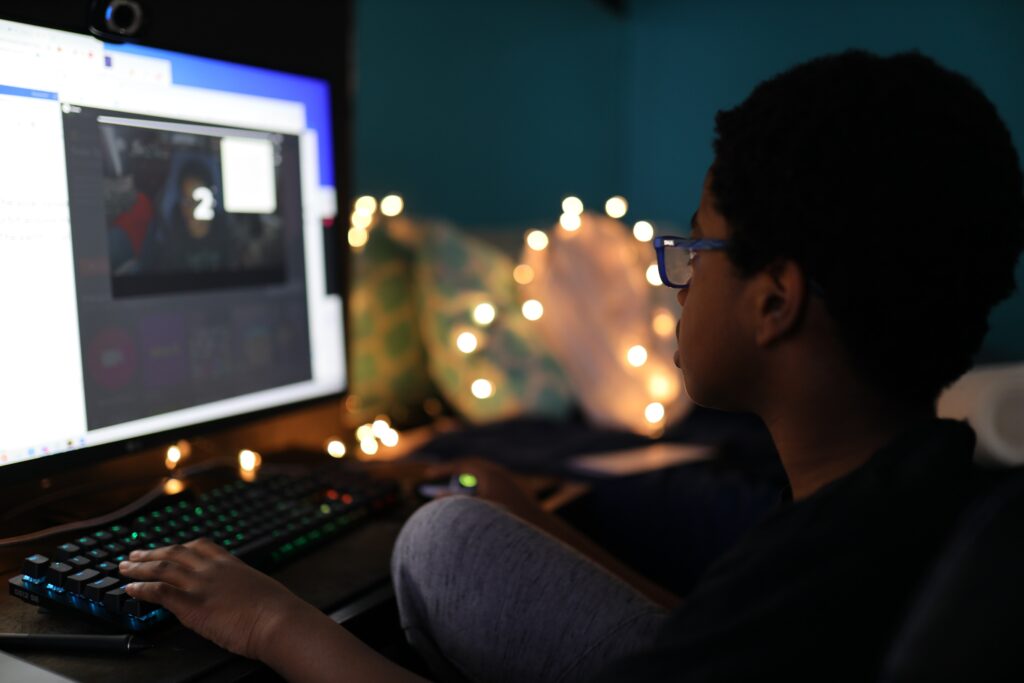 ---
PFSA's Digital Dialogue: Learning and Applying New Information About Digital Wellness
PFSA's Digital Dialogue is a weekly resource that provides parents and professionals with terminology and concepts that are important to digital safety and digital wellness. Each month a new theme will be introduced with specific content released weekly. The goal is to increase awareness, educate families and professionals, and provide tips that can be quickly implemented. Check out the themes below and come back each week to keep the dialogue open!
October Theme: "Pay" Attention
November Theme: Addictive Design
---
Introducing the Family Digital Wellness Parent Toolkit!
Perhaps you want to be proactive in protecting your family against digital dangers that threaten children and families. Or maybe you have witnessed others struggling with these issues, or you and your family have experienced struggles of your own. Whatever your reason may be, it is important to know that you are not alone, and resources do exist.
PFSA has developed a comprehensive toolkit for parents who are ready to learn more about Family Digital Wellness, what it means, and how it can be used to increase safety and create healthy interactions with digital technologies. This toolkit is built on the foundation of PFSA's Digital Diligence Framework, which encourages parents to follow five steps in their journey towards digital wellness.
Download our FREE Parent Toolkit today to learn more and to apply easy-to-implement solutions for your family!
For additional information and questions about the Parent Toolkit or to learn about our accompanying Family Digital Wellness Coaching Guide for professionals, email us at info@pafsa.org.
---
PFSA's Family Digital Wellness Resources
---
Reporting Abuse and Exploitation

ChildLine
ChildLine provides information, counseling, and referral services for families and children to ensure the safety and well-being of the children of Pennsylvania. The toll-free intake line,1-800-932-0313, is available 24/7 to receive reports of suspected child abuse.
---
NCMEC CyberTipline
The National Center for Missing & Exploited Children (NCMEC) CyberTipline is the nation's centralized reporting system for the online exploitation of children. The public and electronic service providers can make reports of suspected online enticement of children for sexual acts, child sexual molestation, child sexual abuse material, child sex tourism, child sex trafficking, unsolicited obscene materials sent to a child, misleading domain names, and misleading words or digital images on the internet. Reports may be made 24/7 online at www.cybertipline.org OR by call the 24-Hour Hotline: 1-800-THE-LOST (1-800-843-5678)
---
News & Media Stories
Los Angeles Times: How parents can help protect children from online catfishing and other digital dangers: The family of the Riverside teen girl who was tricked into a digital romance with a "catfishing" cop from Virginia want their devastating story to be a cautionary tale. "In this tragic moment of our family, our grief, we hope some good will come from this," Michelle Blandin, the teen's aunt, said this week. "Parents, please, please know your child's online activity. Ask questions about what they're doing and whom they are talking to; anybody can say they're someone else." Such incidents are too common, say experts who hope this one will serve as a reminder to parents about having important conversations early and often with children about online conduct. That is the best way, they say, to protect youth from the many dangers that can lurk on the internet, from both known and unknown predators, cyberbullying, sexual exploitation and other concerns. When should parents start talking about online safety?
Forbes: Our Kids' Brains Hurt From Using Technology: The American Academy of Pediatrics recommends less than two hours of entertainment screen time per day for children and discourages the use of any screen media by children under two years of age. The psychology research bucket has been overflowing the last few years with indictments of technology and its deleterious impact on our mental and emotional well-being. Brain research and mental health studies are dovetailing on the conclusion that screen time—particularly social media use—is stressing our brains, specifically the engine of computation and mental functioning: the prefrontal cortex.
The Hill: Three things Congress should do now to protect kids and teens: In this April 9, 2020, photo, Lila Nelson watches as her son, sixth-grader Jayden Amacker, watches an online class at their home in San Francisco. The pandemic increased the amount of time kids and teens spend online, but some worry about the effects of media and technology on their outlook. With the start of the lame-duck session, Congress has a long to-do list in a short period of time. Among the important items that need immediate attention, Congress should not go home without making the internet a safer and healthier place for kids and teens. To their credit, committees in both the House and the Senate have dedicated time and energy to online privacy, health and safety over the past two years. There have been hearings and bipartisan markups, and the 117th Congress has gotten closer to passing comprehensive privacy legislation than any other. Still, Congress appears stuck when it comes to establishing guardrails for social media platforms.
NBC News: Ex-Virginia trooper dies in shootout after killing family of teen he had catfished, police say: A Virginia law enforcement employee was killed in a shootout with deputies in California after he allegedly killed the mother and grandparents of a teenage girl he had catfished online, police said Sunday. Austin Lee Edwards, a former trooper with the Virginia State Police who was working for the Washington County Sheriff's Office, was accused of driving off with the girl after the killings in the Southern California city of Riverside on Friday, police said. It wasn't clear if Edwards, 28, was a sworn officer when he allegedly killed 69-year-old Mark Winek; his wife, 65-year-old Sharie Winek; and their daughter, 38-year-old Brooke Winek. Washington County Sheriff Blake Andis did not immediately respond to a request for comment.
Pew Research Center: Connection, Creativity and Drama: Teen Life on Social Media in 2022: Society has long fretted about technology's impact on youth. But unlike radio and television, the hyperconnected nature of social media has led to new anxieties, including worries that these platforms may be negatively impacting teenagers' mental health. Just this year, the White House announced plans to combat potential harms teens may face when using social media.
The New York Times: Children's Groups Want F.T.C. to Ban 'Unfair' Online Manipulation of Kids: My Talking Tom, an animated video game featuring a pet cat, is one of the most popular apps for young children. To advance through the game, youngsters must care for a wide-eyed virtual cat, earning points for each task they complete. The app, which has been downloaded more than a billion times from the Google Play Store, also bombards children with marketing. It is crowded with ads, constantly offers players extra points in exchange for viewing ads and encourages them to buy virtual game accessories.
Axios: Kids' privacy online gets yearend push in Congress: Lawmakers from both parties who back stricter rules for handling kids' data and accounts online see an opening in the last lame-duck weeks of this Congress. Why it matters: Passing a national online consumer privacy bill continues to be out of Congress' reach, but protecting young people online has been one of the few areas in recent decades where Congress has been able to pass new tech regulations. Driving the news: The two laws best positioned to get rolled into big year-end legislative packages, according to advocates and lawmakers, are:
Forbes Health: Dear Pediatrician: What Is The Best Age For A Child's First Smartphone?: Dear Pediatrician, My middle schooler really wants a smartphone, but I'm not so sure. He says that most of the kids in his class already have a phone, and he feels left out. I'm worried about him spending too much time on the phone. Plus, I've heard scary stories about kids sending inappropriate messages to one another. Is there a best age to give your child a smartphone? Dear Worried, Adding a smartphone to your child's experience of the world is a big step. Having a supportive and thoughtful parent by their side increases their smartphone success. I commend you for thinking critically about when to introduce this tool to your child.
The Washington Post: Their kids' deaths were tied to social media. They want Congress to act: Happy Wednesday! We'd like to tip our hats to the incredible team of journalists at Protocol, who delivered tons of insightful and dogged policy reporting in recent years. Below: Elon Musk delays the relaunch of Twitter Blue, and FBI Director Christopher A. Wray discusses his concerns about TikTok. Below: Their kids' deaths were tied to social media. They want Congress to act. Maurine Molak says her son David, then 16, took his own life after facing months of cyberbullying on social media platforms, which were slow to respond to their reports. "He could not make it stop. I couldn't make it stop," she said during an interview Tuesday.
Boston Globe: Teens and young adults are self-diagnosing mental illness on TikTok. What could go wrong?: Does Carly Smith have attention deficit hyperactivity disorder? She was tested as a child and the answer came back a definitive no. But this summer — battling anxiety and struggling to focus while working remotely in her Watertown apartment — she yearned for an explanation, and turned to a hot source of mental health info for teens and young adults: TikTok. There, Smith, 24, a junior account executive at a PR firm, found an ADHD influencer named Katie Sue, an appealing young woman with a big smile, a lot of what felt like answers, and — on her website — a link to make a donation.
FOX 59 (Indianapolis): Woman's warning after online exploitation: A 19-year-old Indiana woman is recounting her traumatic experience of being sexually exploited as a child. The woman, who asked us to conceal her identity, was a victim of sextortion. She said she was just 12 years old when what seemed like innocent attention from strangers took a dark turn on the online chatting site Omegle. "They would just be like hey, how's your day?" she explained. "Then after that, it would be straight to 'what are you wearing?" As with most sextortion cases, it progressed from talking to pictures to video chats. Oftentimes, they started the chat by showing their privates. She said she couldn't tell how old some of them were, but estimates a lot of the men were in their 30s to 50s.
CNN Business: A guide to parental controls on social media: A little over a year ago, social media companies were put on notice for how they protect, or fail to protect, their youngest users. In a series of congressional hearings, executives from Facebook (FB), TikTok, Snapchat and Instagram faced tough questions from lawmakers over how their platforms can lead younger users to harmful content, damage mental health and body image (particularly among teenage girls), and lacked sufficient parental controls and safeguards to protect teens.
Forbes: Protecting Our Children In Cyberspace: What Are We Missing?: With final election results rolling in, one of the less talked about, yet a vitally crucial issue, is the safety and wellbeing of the children in America –U.S. citizens without voting rights, whose voice is too often lost when it's time to count the ballots. But that should not be the case. The last couple of months have been bustling with activity on the technology regulation front, with particular attention devoted to the protection of children in cyberspace. It started with the White House formally announcing its expansive federal tech policy reform, emphasizing the protection of young users. The US Supreme Court followed suit, when last month it granted certiorari in Gonzalez v. Google, a high-stakes case appealed from the Ninth Circuit about the scope of protection Section 230 of the Communications Decency Act gives tech companies against liability for the content on their platforms.
Sky News (UK/Britain): Instagram age verification: Social media giant to use automated analysis of video selfies to allow some UK users to 'prove their age': From today, anyone who tries to edit their date of birth by changing it from under the age of 18 to over 18 will have to verify it by providing ID or a video selfie that will use age estimation technology.: Users of Instagram in the UK or EU will from now on see new age verification tools on the platform as part of a major safety update to protect children. From today, anyone who tries to edit their date of birth by changing it from under the age of 18 to over 18 will have to verify their age through ID or a video selfie, which will be examined by independent age estimation technology. Instagram said the new update would help ensure an age-appropriate experience for its users. Cyber safety campaigners have long been advocating for greater child protection, particularly after the Molly Russell inquest, which concluded last month that the 14-year-old girl died from an act of self-harm after being exposed to the "negative effects of online content".
PEW Research: California's New Child Privacy Law Could Become National Standard: A new California privacy law might fundamentally change how kids and teens use the internet — not only in California but also across the country. The first-in-the-nation legislation, which goes into effect in 2024, imposes sweeping restrictions on internet companies that serve minors, requiring that they design their platforms with children's "well-being" in mind and barring eight common data-collection practices. Supporters of the bipartisan measure — including a range of privacy, consumer and children's advocates — have compared it to longstanding consumer safety protections, such as seatbelts and nutrition labels. New York, Washington and West Virginia also have weighed child privacy bills, and Congress considered four such bills last year. While the Washington and West Virginia bills died in committee, the New York, Pennsylvania and federal bills remain under consideration.vvvv
The Hill: Advocates urge committee to advance Kids Online Safety Act: A joint letter sent by online children safety advocates urges Sen. Maria Cantwell (D-Wash.), Chair of the Senate Committee on Commerce, Science, and Transportation, to advance the Kids Online Safety Act (KOSA). The letter was organized by Fairplay, ParentsTogether and the Eating Disorders Coalition, and received more than 100 signatures of organizations and individuals concerned about the harmful impacts of social media on kids and teenagers. KOSA was first introduced in February 2022 and is sponsored by Sen. Richard Blumenthal (D-Conn.) and 11 others. In the letter, advocates call on Cantwell to "publicly commit to moving KOSA, (S.3663) as part of the omnibus spending bill before the end of the current session," and requests she take time to talk to parents about the issue.
NBC News: Their children went viral. Now they wish they could wipe them from the internet: During the early months of the pandemic, Kodye Elyse started posting what she described as "normal mom quarantine content" on TikTok. Kodye Elyse, a cosmetic tattoo artist, said she "really wasn't on social media" before then so she barely had any followers. Since her videos weren't getting many views, she felt it "wasn't a big deal" to have a public account to showcase their family life during lockdown, with many of the videos featuring her and her daughters dancing around the house. But the overwhelming response to one of Kodye Elyse's first viral videos "convinced" her to take her kids offline entirely. The video started with Kodye's then 5-year-old daughter. She then swapped places with Kodye Elyse to the beat of the music, and with a clever edit, appeared to transform into her mother.
The Dessert News (Utah): Op-ed: More tech, less teen happiness: the link between depression and tech use is especially troubling for children in nontraditional families, our new study found: Our teens are in crisis. The share of American high school students reporting "persistent feelings of sadness or hopelessness" has increased to nearly half of youth, according to the Centers for Disease Control and Prevention. That troubling news came on the heels of a report from Harvard's Human Flourishing Program that the well-being of young adults has dramatically declined compared to older age groups. A host of factors are driving our kids to despair, from decreased social connection to increased worries about the future of the planet.
Newsweek: Op-ed: We Need Parents and Policy to Save Our Kids from Big Tech: It is now firmly established that social media are ruining the minds and bodies of America's children. Facebook's own internal studies find that among teens, especially teen girls, the company's products lead to "increases in the rate of anxiety and depression." Social media are designed to be addictive. Heavy use leads to sleep disorders, body dysmorphia, and suicidal thoughts. This should be enough reason for a sane society to stop, think, and change course. They are kids, after all, who deserve peace of mind and time with their loved ones undisturbed by digital encroachments. But we live in a technological age, in which the imperatives of Silicon Valley are given precedence over everything, including the well being of children. So instead of sending our kids a life raft, we are packing their bags for the Metaverse, where their minds will be beyond reach.
Lancaster Online: LTE: Social media affects everyone's well-being: (Written by Savannah Ginder, student at Conestoga Valley High School): "I just felt happier." That's what my friend said about giving up social media for a week. Instead of scrolling, she listened to podcasts, colored and went on walks. My teacher had a similar experience after she decided to get rid of TikTok. Social media can affect your well-being by creating a negative environment that leads to illnesses such as depression and anxiety. "The platforms are designed to be addictive and are associated with anxiety, depression, and even physical ailments," states a report on the website of McLean Hospital, a leading psychiatric hospital in Massachusetts. No wonder both my friend and my teacher felt better after giving up social media.
Forbes: FDA: Here Are Dangers Of NyQuil Chicken And Benadryl Challenges On Social Media: If you are thinking about cooking your chicken in NyQuil, don't. Just don't. The same goes for trying to swallow enough Benadryl so that you can start hallucinating. These are not good ideas, no matter what someone on Instagram, TikTok, Facebook, Face-meta, Meta-Face, or whatever your social media of choice may be called. But apparently enough people have been doing such things that the U.S. Food and Drug Administration (FDA) has felt the need to issue a warning about the dangers of doing such things.
Forbes: The Latest Attempt To Address The Online Data And Privacy Crisis: Some crises strike companies quickly, are addressed by corporate executives, and soon fade from the spotlight. Other crises capture the public's attention but are eventually placed on the back burner, unresolved. But they can get moved to the front at any time. Consider the case of the online data and privacy crisis, which made international headlines a year ago when whistleblower Frances Haugen told Congress that Facebook and Instagram negatively impacted the mental health of teenagers. Not surprisingly, there were several rounds of accusations and finger-pointing over who was to blame for the crisis, the extent of the impact of social media on mental health, and what had or should be done about it.
ABC 27: VIDEO: Pennsylvania bill would require porn filter on children's devices: A bill introduced in the Pennsylvania State House would require a filter on children's mobile devices to prevent access to pornography. The bill introduced by Rep. Jim Gregory (R-Blair) would require cellular carriers to switch on filters for new smartphones and tablets activated in Pennsylvania. Gregory says the bill "mirrors" legislation signed in Utah, which doesn't go into effect until multiple states enact similar legislation. The American Civil Liberties Union of Utah argued the constitutionality of the Utah bill was not adequately considered and that it will likely be argued in court. Gregory argues that Pennsylvania should follow several other states that have proposed similar legislation.
Time Magazine: Social Media Has Made Teen Friendships More Stressful: Public health data signals a genuine crisis in adolescent mental health: rising rates of anxiety, depression, and hopelessness. But as we worry about tweens and teens who are struggling, we can't ignore another mounting toll—the burdens that are shouldered by their friends and peers in an "always on" world. We have studied teens and tech for over a decade. Still, what we learned in our most recent study stopped us in our tracks. We collected perspectives from more than 3,500 teens on the best and trickiest parts of growing up in a networked world, and we co-interpreted these perspectives alongside other teens who helped us make sense of what we were hearing.
Axios: Why social media companies moderate users' posts: Facebook, Twitter and other online services set rules for users' posts not just to flag individual statements, but more broadly, to ensure they're complying with the law, to help define their businesses and to protect their users. Driving the news: Public debate over online speech peaked again with Kanye West's ban from Twitter and Elon Musk's willingness to bring Donald Trump back to that service if he becomes its owner. But public understanding of why social networks moderate content remains murky. Obeying the law: Social media networks have to follow local laws like everyone else.
CBS 21: Talking to your child about dangerous internet trends like 'one chip challenge': October is Cyber Security Awareness Month, so there's no better time to shine a light on a shocking internet trend Harrisburg School District just banned for putting kids in the hospital. The "One Chip Challenge" is making its rounds on social media, particularly on TikTok. It's been around for a few years, but people are having serious reactions to the 2022 edition of the chip. You can buy the chip at a convenience store or find it online. It costs a whopping $9. People eat a single spicy chip and wait as long as they can to eat or drink anything else. Then, they post the video of the challenge on social media.
The Washington Post: 'Responsible social media' council looks to bridge divides on tech: The Biden administration announces a proposal affecting gig workers, and Meta's metaverse pitch for businesses faces some challenges. First: 'Responsible social media' council looks to bridge divides on tech. Public officials in Washington for years have sparred along partisan lines over whether social media platforms take down too much or too little hate speech and misinformation. A council launching this week aims to sidestep those disputes by proposing reforms that tackle issues of bipartisan concern, including children's safety and national security.
AP: White House unveils artificial intelligence 'Bill of Rights': The Biden administration unveiled a set of far-reaching goals Tuesday aimed at averting harms caused by the rise of artificial intelligence systems, including guidelines for how to protect people's personal data and limit surveillance. The Blueprint for an AI Bill of Rights notably does not set out specific enforcement actions, but instead is intended as a White House call to action for the U.S. government to safeguard digital and civil rights in an AI-fueled world, officials said. "This is the Biden-Harris administration really saying that we need to work together, not only just across government but across all sectors, to really put equity at the center and civil rights at the center of the ways that we make and use and govern technologies," said Alondra Nelson, deputy director for science and society at the White House Office of Science and Technology Policy. "We can and should expect better and demand better from our technologies."
New York Post: 'School photo' social media trend could leave kids vulnerable to predators: Police: As students adjust to returning to school this fall, law enforcement members and online safety experts are reminding parents to be cautious about the information they share on social media. It may give predators access to children and scammers access to personal information. "We're not saying not to share," Deputy Sheriff Tim Creighton of the McHenry County Sheriff's Office in Woodstock, Illinois, recently told Fox News Digital. "I have people to this day on my feeds. They are sharing way too much information." "Less is better," he said. "Your close friends and family know the important details about your kids, such as the town they live in, the school they go to, their full name. Strangers don't need to know that."
The Hill: Why 'sharenting' is sparking real fears about children's privacy: For parents, grandparents and caregivers, snapping a photo of their child and sharing it on social media may seem like a routine, harmless act. After all, being proud of your child and wanting to share that pride with loved ones is a completely normal and largely universal feeling. Unfortunately, this seemingly simple decision — to post a photo, video, or any other information about a child under 18 on social media or the internet in general — comes with a host of ethical and legal considerations, despite the innocent intention behind the action. "Sharenting," or parents sharing their child's likeness or personal information on the internet, has grown in popularity alongside the advent of smartphones and social media. And this practice shines a light on the murky realm of children's consent, digital data collection, targeted advertising, and real-world dangers resulting from parents' online activities.
WXYZ-TV: Detroit mother sues Instagram for negatively affecting her 13-year-old child: A 2018 Pew Research Study found that 45% of teenagers are online almost constantly. 97% use a social media platform. A Johns Hopkins University study from 2019 shows that 12 to 15-year-olds in the U.S. who spend more than three hours a day on social media are likely to have a heightened risk for mental health problems. Now, a Detroit mother of a 13-year-old is suing Instagram and its parent company Meta claiming it had horrible effects on her daughter. The plaintiff, known as L.H., had been on Instagram since the age of 11 and was a "heavy user" according to a 123-page federal complaint.
The Hill: California passes bill requiring social media companies to consider children's mental health: California's legislature has passed legislation that will require social media companies to consider the physical and mental health of minors who use their platforms. Senate Bill AB 2273 passed in the state's Senate chamber in a 75-0 vote on Tuesday. The proposed legislation is headed to the desk of California Gov. Gavin Newsom (D), though it is unclear whether Newsom will sign the legislation into law, The Wall Street Journal reported. The California Age-Appropriate Design Code Act, which was first introduced by state representatives Buffy Wicks (D), Jordan Cunningham (R) and Cottie Petrie-Norris (D), will "require a business that provides an online service, product, or feature likely to be accessed by children to comply with specified requirements."
The New York Times: An Apple Watch for Your 5-Year-Old? More Parents Say Yes.: Florian Fangohr waffled for about a year over whether to buy an Apple Watch SE as a gift. The smart watch cost $279, and he worried that its recipient would immediately break or lose it. In May, he decided the benefits outweighed the costs and bought the gadget. The beneficiary: his 8-year-old son, Felix. Mr. Fangohr, a 47-year-old product designer in Seattle, said he was aware that many people were pessimistic about technology's creep into children's lives. But "within the framework of the watch, I don't feel scared," he said. "I want him to explore." Felix, a rising third grader, said he actually wanted a smartphone. "But the watch is still really, really nice," he said.
The New York Times: Sweeping Children's Online Safety Bill Is Passed in California: Social media and game platforms often use recommendation algorithms, find-a-friend tools, smartphone notices and other enticements to keep people glued online. But the same techniques may pose risks to scores of children who have flocked to online services that were not specifically designed for them. Now California lawmakers have passed the first statute in the nation requiring apps and sites to install guardrails for users under 18. The new rules would compel many online services to curb the risks that certain popular features — like allowing strangers to message one another — may pose to child users. The bill, the California Age-Appropriate Design Code Act, could herald a shift in the way lawmakers regulate the tech industry. Rather than wade into heated political battles over online content, the legislation takes a practical, product-safety approach. It aims to hold online services to the same kinds of basic safety standards as the automobile industry — essentially requiring apps and sites to install the digital equivalent of seatbelts and airbags for younger users. "The digital ecosystem is not safe by default for children," said Buffy Wicks, a Democrat in the State Assembly who co-sponsored the bill with a Republican colleague, Jordan Cunningham. "We think the Kids' Code, as we call it, would make tech safer for children by essentially requiring these companies to better protect them."
ABC News: What parents should know before sharing back-to-school photos online: Katy Rose Prichard, a popular mom influencer on social media, speaks out about how images of children's faces can be used in ways you never imagined. It's become a cherished tradition among parents every August and September: sharing back-to-school photos on social media with family members and friends as a new school year kicks off. The trend has been a mainstay on social media, with parents posting pictures of their kids holding signs that showcase details like their child's age, grade, school, teacher or afterschool activities, and the photos are an easy way to keep loved ones updated. But although it may seem harmless, privacy and security experts say parents and caregivers need to be aware of the inherent risks of sharing pictures and identifiable information online.
CNBC: Randi Zuckerberg says she's a 'big proponent of the real world' when it comes to parenting: Randi Zuckerberg says she's a "big proponent of the real world" — especially when it comes to protecting children from technology. Speaking at the Credit Suisse Global Supertrends Conference in Singapore earlier this month, Randi Zuckerberg, who is founder and CEO of Zuckerberg Media, discussed worries among many that the metaverse will take children further away from reality.
Los Angeles Times: Op-Ed: California's fight for a safer internet isn't over: This month, a bill to regulate social media services for children was rejected by California's Senate Appropriations Committee without explanation. The proposed legislation, sponsored by Assembly members Jordan Cunningham (R-Paso Robles) and Buffy Wicks (D-Oakland) and called the Social Media Platform Duty to Children Act, would have allowed the state attorney general and local prosecutors to sue social media companies for knowingly incorporating features into their products that addicted children. The powerful tech industry lobbied for months to defeat the bill.
WLWT (Ohio): Experts share warning for parents about back-to-school social media posts: A warning for parents, as back-to-school social media posts could be putting your child at risk. Experts say some parents are posting too much personal information with their child's back-to-school pictures. "I'm on Facebook, so I definitely see all the postings that are going on right now," parent Selena Ramanayake said. "They actually have their school name on there, and age, and all this, and so sometimes I kind of have that, I don't know, hesitation about should you be posting all that," she said. Ramanayake is talking about popular social media posts of children holding signs that read details about their lives and school information.
The New York Times: LTE's: Should Kids Be Kept Off Social Media?: Yuval Levin's suggestion is an interesting one, but experience tells us that kids are savvy at getting around age restrictions and safety guards. Kids today are forming connections using technology and growing up with a smartphone in their hands, so we must meet the moment by taking a holistic approach to keeping them safe online. We need to ensure that social media platforms are designed to protect children from bad actors. And we must support parents by providing them with tools to have effective communication with their kids about online safety. Age limits alone will not take the place of these two fundamental elements. Research shows that parents shy away from having difficult conversations about safety topics. For example, one recent survey shows that while the majority of parents have spoken with their kids about being safe on social media generally, less than a third have talked directly about sharing and resharing nude selfies. In short, parents need support so they can feel confident having early and judgment-free conversations with their kids. Platforms need to be proactive in designing their platforms with child safety in mind. And youth need access to modern, relevant education on these tough topics to reduce shame and create a safety net.
Harrisburg Patriot News: Dauphin County girl rescued from couple who lured her away via Instagram: police: A New York couple kidnapped a Dauphin County teenager last year after reaching out to her on Instagram and offering to do her makeup, court documents said. A 13-year-old girl's mother reported her missing to Lower Swatara Township police after she'd been gone for several days in December 2021. The mother said her daughter had run away before, but usually came right back or was quickly found, Lower Swatara police said in an affidavit of probable cause. Investigators traced the 13-year-old's Internet Protocol (IP) address on Instagram to a home in Amsterdam, New York, where Jeniyah D. Lockhart-Tippins and Neil T. Moore II lived, according to the affidavit. After she was rescued from the couple's home, the 13-year-old told investigators Lockhart-Tippins followed her on Instagram and sent her a direct message, offering to do her makeup, the affidavit said.
Pittsburgh Tribune-Review: Cellphones in schools: Some districts take steps to eliminate devices from class while others balance benefits: Wake up. Check your phone. Go to class. Check your phone. Start homework. Check your phone. Go to bed. Check your phone. For some high schoolers, cellphone use is almost on par with blinking, with the average teenager raking in up to nine hours of screen time each day, according to the American Academy of Child & Adolescent Psychology. In the classroom, phones can serve as an educational tool or a pesky distraction. The latter rang true for six Western Pennsylvania schools — so much so that these schools will take steps to eliminate cellphone use from the classroom during the 2022-23 academic year.
WIRED: How to Use Snapchat's Family Center With Your Kids: The social media platform just made it easier to find out who your children are interacting with online: TO ALL THE parents who want to know more about who your kids are talking to on their smartphones, I have good news and bad news. The good news: A prominent social media app recently made changes allowing parents and guardians to access more data on the children they care for who are ages 13 to 17. The bad news: You have to download Snapchat. Once it's set up and your account is connected with those of your children, Snapchat's new family center lets you see the child's friend list, who they're sending messages to, and report potential abuse. The family center does not let you peek into the content of their messages. Although the new feature allows you to see the approximate time your teen messaged someone during the past week, an exact timestamp isn't provided.
Huffington Post: 7 Things You Should Ask Your Kids About Their Social Media Accounts: Parents may feel apprehensive thinking about their kids on social media, but the reality is young people regularly use platforms like Instagram, TikTok and Snapchat. A survey published by Common Sense Media in March 2022 found that 84% of teens and 38% of tweens say they use social media, with 62% of teens and 18% of tweens saying they use it every day. These numbers underscore the importance of talking to young people about these platforms and their experiences.
Forbes: What The Results Of 32 Studies Teach Us About Parenting In The Age Of Social Media: A new study published in the academic journal Current Opinion in Psychology offers a path forward for parents who are searching for better ways to navigate the nascent world of adolescent social media use. The authors argue that it is possible for parents to put guardrails in place that reduce pre-teen and adolescent anxiety and depression resulting from social media overconsumption, as well as minimize the negative effects of cyberbullying. Here is an overview of their recommendations.
U.S. World News & Report: How to Talk to Tweens About Being Responsible on Social Media: Posting questionable content online could affect your child's future.: Social media users are getting younger. As screen time increased during the pandemic, so did social media use, especially among tweens, according to the latest report by Common Sense Media, a nonprofit research and advocacy group. Although most social media apps are intended for those 13 or older, nearly one in every five tweens, defined as those ages 8 to 12, reported being on social media daily. These platforms can have both positive and negative effects for young people, researchers say. As more kids access social media at younger ages, it's increasingly important for parents and educators to help them learn how to stay safe and use social media responsibly. That includes teaching your kids that what they say online can have long-term consequences.
AP: California social media addiction bill drops parent lawsuits: A first-of-its-kind proposal in the California Legislature aimed at holding social media companies responsible for harming children who have become addicted to their products would no longer let parents sue popular platforms like Instagram and TikTok. The revised proposal would still make social media companies liable for damages of up to $250,000 per violation for using features they know can cause children to become addicted. But it would only let prosecutors, not parents, file the lawsuits against social media companies. The legislation was amended last month, CalMatters reported Thursday. The bill's author, Republican Assemblymember Jordan Cunningham, said he made the change to make sure the bill had enough votes to pass in the state Senate, where he said a number of lawmakers were "nervous about creating new types of lawsuits."
NPR: Snapchat's new parental controls try to mimic real-life parenting, minus the hovering: Snapchat is rolling out parental controls that allow parents to see their teenager's contacts and report to the social media company — without their child's knowledge — any accounts that may worry them. The goal, executives say, is to enable parents to monitor their child's connections without compromising teens' autonomy. Named Family Center, the new suite of tools released Tuesday requires both caregiver and teen to opt in.
New York Post: 'Victims of Instagram': Meta faces novel legal threat over teen suicides: Meta is facing a fresh storm of lawsuits that blame Instagram for eating disorders, depression and even suicides among children and teens — and experts say the suits are using a novel argument that could pose a threat to Mark Zuckerberg's social-media empire. The suits — which are full of disturbing stories of teens being barraged by Instagram posts promoting anorexia, self-harm and suicide — rely heavily on leaks by whistleblower Frances Haugen, who last year exposed internal Meta documents showing that Instagram makes body image issues and other mental health problems worse for many teens.
CNET: Kids Are Being Exploited Online Every Day – Sometimes at the Hands of Their ParentsOn TikTok, Instagram and YouTube, some kids are making millions. But any child working as an influencer is at risk of exploitation.: Rachel Barkman's son started accurately identifying different species of mushroom at the age of 2. Together they'd go out into the mossy woods near her home in Vancouver and forage. When it came to occasionally sharing in her TikTok videos her son's enthusiasm and skill for picking mushrooms, she didn't think twice about it — they captured a few cute moments, and many of her 350,000-plus followers seemed to like it. That was until last winter, when a female stranger approached them in the forest, bent down and addressed her son, then 3, by name and asked if he could show her some mushrooms. "I immediately went cold at the realization that I had equipped complete strangers with knowledge of my son that puts him at risk," Barkman said in an interview this past June. This incident, combined with research into the dangers of sharing too much, made her reevaluate her son's presence online. Starting at the beginning of this year, she vowed not to feature his face in future content.
Forbes: TikTok Moderators Are Being Trained Using Graphic Images Of Child Sexual Abuse: A largely unsecured cache of pictures of children being sexually exploited has been made available to third-party TikTok content moderators as a reference guide, former contractors say. Nasser expected to be confronted with some disturbing material during his training to become a content moderator for TikTok. But he was shocked when he and others in his class were shown uncensored, sexually explicit images of children.
Politico: Congress is closer than ever to reining in social media: The fallout from Facebook whistleblower Frances Haugen's explosive testimony about social media's threat to children before the Senate Commerce Committee last fall is coming into focus. There's bipartisan support in Congress to ban targeted ads aimed at kids under 16, require tech firms to establish default safety tools to protect children online and give parents more control over their children's web surfing.
New York Post: Online dangers are rampant for kids today: One of the most important jobs parents have today is keeping their children safe online. As moms and dads prepare to send their kids back to school soon, one critical item needs to be included on the checklist: checking out all online platforms their kids are using — and starting conversations early about cyber safety. Kids and teens between the ages of 8-28 spend about 44.5 hours each week in front of digital screens, according to the nonprofit Center for Parenting Education. This makes it crystal clear that parents need to be tuned in and very educated about what, exactly, their kids are doing during those hours.
CBS News: "It's a crisis": More children suffering mental health issues, challenges of the pandemic: According to the Mental Health Alliance, in 2022, fifteen percent of kids ages 12 to 17 reported experiencing at least one major depressive episode. That was 306,000 more than last year. "It's bad. It's a crisis" said Katherine Lewis, a licensed family therapist at The Bougainvilla House, a nonprofit treatment center in Ft Lauderdale that describes itself as a safe place for children and youth to grow emotionally. To understand why children's mental health is in such a fragile state, CBS4 was given rare access to the center
Newsweek: Too Much Screen Time for Teens Leads to Mental Disorders, New Study Shows: Youngsters who spend a lot of time in front of a screen are at greater risk of developing behavior disorders, warned a new study. Social media is thought to have an especially strong influence and was most likely to be linked to issues such as shoplifting, scientists said. Watching videos and television, playing games, and texting were linked with oppositional defiant disorder (ODD), according to the findings published July 26 in the Journal of Child Psychology and Psychiatry.
Good Housekeeping: The Hidden Danger Behind TikTok's "Product Overload" Cleaning Trend: TikTok is ripe with cleaning inspiration, but one eyebrow-raising trend that has been building steam over the last year now has experts concerned about social media users' safety. Appropriately known as "product overload" by those in the know, the trend — which involves users filming themselves loading up a toilet, bath or sink with copious amounts of astringent cleaning products — has become its own form of ASMR for what's known as the "CleanTok" corner of the platform.
FOX 11 (Los Angeles): TikTok sued by parents of teen who blame platform for child's eating disorder: Another lawsuit was filed Thursday against TikTok, this time by the parents of a girl who allege the social media platform's content is responsible for their 13-year-old daughter's severe eating disorder that required the child's hospitalization and will affect her for life.
The Washington Post: Senate panel advances bills to boost children's safety online: Senators took their first step toward increasing protections for children and teens online on Wednesday, advancing a pair of bipartisan bills that would expand federal safeguards for their personal information and activities on digital platforms. The push gained momentum on Capitol Hill last year after Facebook whistleblower Frances Haugen disclosed internal research suggesting that the company's products at times exacerbated mental health issues for some teens.
ABC News: Wren Eleanor' TikTok trend sees parents removing photos, videos of their kids. An account featuring a 3-year-old has sparked a discussion on online safety.: The families of two teens filed new lawsuits against Meta, the parent company of Instagram, claiming the platform causes eating disorders and is spurring a mental health crisis among young people. A TikTok account with more than 17 million followers has sparked a discussion about children's privacy and safety online.
ABC News: VIDEO: Parents sue TikTok after daughter dies attempting 'blackout' social media challenge: The parents speak exclusively to ABC News about a social media challenge called "blackout" — in which children choke themselves until they pass out. A Wisconsin family is suing TikTok after their 9-year-old daughter died attempting the so-called "blackout challenge" popularized on social media.
Fortune: Instagram and TikTok are wreaking havoc on our finances and happiness, new survey finds: You might have recently purchased athletic gear or a hoodie from an advertisement shared by an online retailer—and immediately regretted it. You're far from alone. Social media impacts consumers' spending habits, according to a new study by Bankrate, with nearly half of users admitting to making an impulse purchase based on a sponsored post.
Tech Crunch: Kids and teens now spend more time watching TikTok than YouTube, new data shows: Kids and teens are now spending more time watching videos on TikTok than on YouTube. In fact, that's been the case since June 2020 — the month when TikTok began to outrank YouTube in terms of the average minutes per day people ages 4 through 18 spent accessing these two competitive video platforms.
Variety: TikTok Will Add Adult-Content Warning Labels to Videos With 'Overtly Mature Themes': TikTok is giving users of the popular app more controls over the kinds of videos they see in their feed — including flagging videos with "mature or complex themes" intended for viewers 18 and older. TikTok's Community Guidelines detail categories of content that is banned by the platform, including nudity, pornography and sexually explicit content.
Forbes: TikTok: America's Drug Of Choice: A recent report that TikTok's American user data is routinely accessed by Chinese employees comes as no surprise. China's global technology companies have long engaged in persistent data sharing thereby giving the Chinese government eyes and ears around the world.
New York Post: Alarming TikTok trend sees parents ask kids to help them fight: The first rule of Fight Club is you do not talk about Fight Club, but these parents are posting on TikTok. A new trend on the video-sharing app that involves parents asking their kids to defend them in a fight has divided users, with some saying it's promoting violence in young children. The trend — and the hashtag #fightprank — has over 24.8 million views on TikTok.
Tech Crunch: Children's rights groups call out TikTok's 'design discrimination': Research examining default settings and terms & conditions offered to minors by social media giants TikTok, WhatsApp and Instagram across 14 different countries — including the US, Brazil, Indonesia and the UK — has found the three platforms do not offer same level of privacy and safety protections for children across all the markets where they operate.
New York Post: TikTok sued after young girls die in 'blackout challenge': TikTok is facing wrongful death lawsuits after two young girls killed themselves trying to recreate "blackout challenge" videos they watched on the platform. Lalani Erika Walton, 8, and Arriani Jaileen Arroyo, 9, both wound up dead after watching hours of the videos featuring the challenge fed to them by TikTok's algorithm, the suits allege, the Los Angeles Times reported.
CNN: An FCC regulator wants TikTok removed from app stores. Here's how a company executive responded: While TikTok's short-form videos are entertaining, that's "just the sheep's clothing," a Federal Communications Commission official said, and the app should be removed from app stores because of security issues. But a TikTok executive, in a rare interview on CNN's "Reliable Sources" on Sunday, claimed there are no security concerns linked to the hugely successful app.
Forbes: Hugely Popular NGL App Offers Teenagers Anonymity In Comments About Each Other: A new app that allows Instagram users to send anonymous messages is soaring in popularity – and renewing concerns about cyberbullying and harassment that plagued previous apps allowing teens to comment on one another without attribution.
WTAE-TV: VIDEO: Charleroi man accused of luring three young girls through Snapchat: Police say Brandon Johnson, 35, drove girls to a Connellsville hotel: Connellsville police said a 35-year-old Charleroi man used Snapchat to lure three young girls to an area hotel last weekend.
US Attorney's Office: Philadelphia Man Convicted of Sex Trafficking a Minor on Backpage.com: United States Attorney Jennifer Arbittier Williams announced that a man was convicted at trial of sex trafficking, arising from his forcible coercion of a minor to engage in prostitution. The defendant and the victim first met on a digital social networking application in June 2016.
WTAE-TV (Pittsburgh): North Dakota man accused of sexually exploiting 13-year-old Washington County girl: A North Dakota man has been indicted on charges of child pornography and sexual exploitation of a 13-year-old girl from Washington County. Nicholas Nesdahl, 27, was being held in a jail in North Dakota on Friday awaiting extradition to the Pittsburgh area. In October 2021, a woman reported to Peters Township police that she found troubling videos on her daughter's cellphone.
PA Police Warn Of Dangerous TikTok Challenge With Gel Gun: Police departments all over are warning folks about a dangerous social media challenge urging users to shoot modified pellet guns at people.
PA State Rep. Hit By Pellets While Walking Dog: As multiple police agencies were investigating a shooting at Erie High School, Rep. Pat Harkins was walking his dog Barry, just several blocks away.
FBI Pittsburgh Warns of Increase in Sextortion Schemes Targeting Teenage Boys: The FBI Pittsburgh Field Office is warning parents and caregivers about an increase in incidents in the Pittsburgh area involving sextortion of teenagers. The FBI is receiving an increasing number of reports of adults posing as age-appropriate females coercing young boys through social media to produce sexual images and videos and then extorting money from them.
Dad Warns Parents After Son, 12, Dies from 'Blackout Challenge': 'Check Out' Your Kids' Phones "This is a weapon in our home that people don't know about," says Haileyesus Zeryihun.
Vague TikTok threats bring police presence to local schools: Law enforcement and schools are taking extra precautions amid an apparent TikTok trend threatening violence nationwide on Friday.
12-Year-Old Boy Who Burned 35 Percent of Body in TikTok 'Fire Challenge' Tells Kids 'Not to Be a Follower': Nick Howell spent almost six months in and out of the hospital and had 50 surgeries
Easton Express-Times: Slate Belt teen faces 20 child porn counts in Pa. Attorney General's Office probe: An 18-year-old Slate Belt man faces numerous charges of possessing child pornography after a months-long investigation by the Pennsylvania Attorney General's Office
---