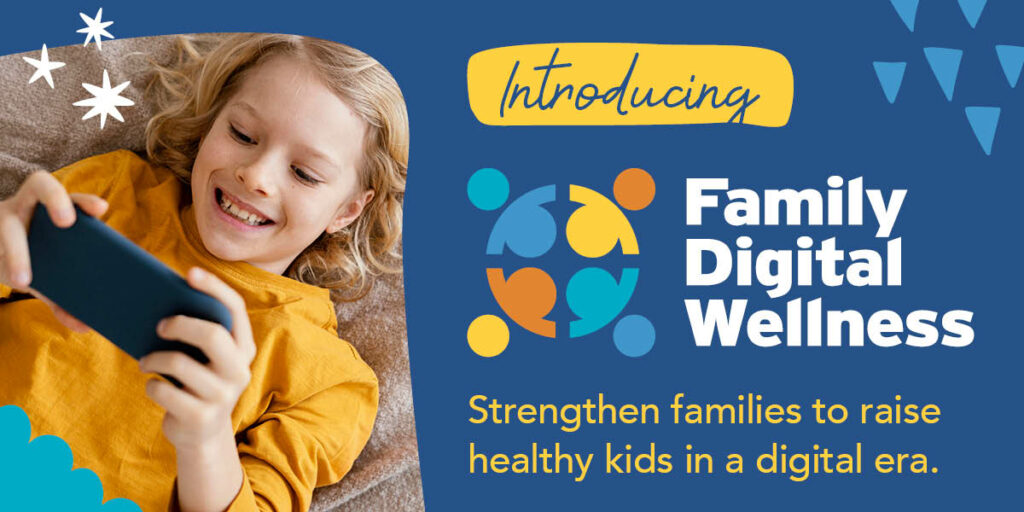 The foundation of our society and economy is now grounded in the digital world, and the COVID-19 pandemic has only accelerated this trend. A March 2022 survey released by Common Sense Media, found that children and teens are spending more time than ever before on digital devices. This survey found children ages 8 to 12 spend on average five hours and 33 minutes on screens, and teens ages 13 to 18 spend eight and a half hours on screens per day.
While there is an emphasis on protecting children online from predators and preserving kids' mental and physical health, a piece of the puzzle is missing. Now that we are immersed in the digital world, it is imperative to equip parents and families to recognize warning signs of digital threats and to create healthy relationships and interactions with digital technologies in order to prevent abuse and future harm. This is why PFSA has developed the Family Digital Wellness initiative.
Family Digital Wellness: An inclusive, supportive, and preventative approach aimed to strengthen families in raising healthy children in a digital era.
---
Did You Know?
69% of U.S. children have their own smartphone by age 12.
70% of kids encounter sexual or violent content online while doing homework research.
1 in 5 youth ages 10-17 received a sexual solicitation or were approached online.
40% of children in grades 4-8 say they have chatted with a stranger online.
20% of teens have sent or posted nude or semi-nude photos or videos.
About 7 in 10 parents think smartphones could bring more harm than good to children.
66% of U.S. parents say parenting is harder today than it was 20 years ago, with many in this group citing technology as a reason why.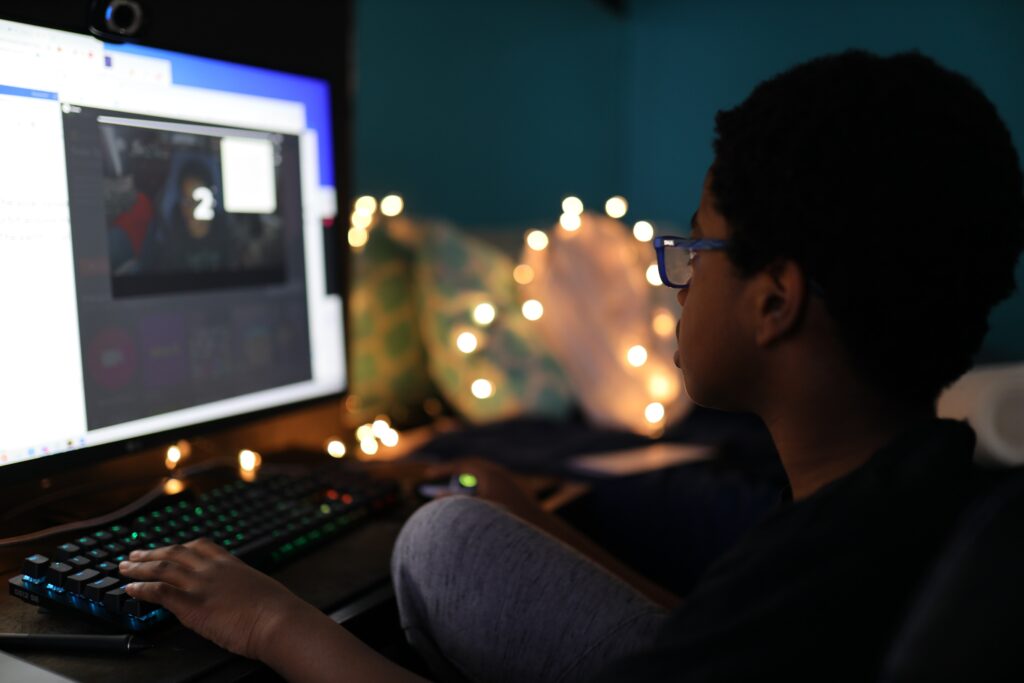 ---
Introducing the Family Digital Wellness Parent Toolkit!
Perhaps you want to be proactive in protecting your family against digital dangers that threaten children and families. Or maybe you have witnessed others struggling with these issues, or you and your family have experienced struggles of your own. Whatever your reason may be, it is important to know that you are not alone, and resources do exist.
PFSA has developed a comprehensive toolkit for parents who are ready to learn more about Family Digital Wellness, what it means, and how it can be used to increase safety and create healthy interactions with digital technologies. This toolkit is built on the foundation of PFSA's Digital Diligence Framework, which encourages parents to follow five steps in their journey towards digital wellness.
Download our FREE Parent Toolkit today to learn more and to apply easy-to-implement solutions for your family!
For additional information and questions about the Parent Toolkit or to learn about our accompanying Family Digital Wellness Coaching Guide for professionals, email us at info@pafsa.org.
---
PFSA's Family Digital Wellness Resources
---
Reporting Abuse and Exploitation

ChildLine
ChildLine provides information, counseling, and referral services for families and children to ensure the safety and well-being of the children of Pennsylvania. The toll-free intake line,1-800-932-0313, is available 24/7 to receive reports of suspected child abuse.
---
NCMEC CyberTipline
The National Center for Missing & Exploited Children (NCMEC) CyberTipline is the nation's centralized reporting system for the online exploitation of children. The public and electronic service providers can make reports of suspected online enticement of children for sexual acts, child sexual molestation, child sexual abuse material, child sex tourism, child sex trafficking, unsolicited obscene materials sent to a child, misleading domain names, and misleading words or digital images on the internet. Reports may be made 24/7 online at www.cybertipline.org OR by call the 24-Hour Hotline: 1-800-THE-LOST (1-800-843-5678)
---
News & Media Stories
NPR: Snapchat's new parental controls try to mimic real-life parenting, minus the hovering: Snapchat is rolling out parental controls that allow parents to see their teenager's contacts and report to the social media company — without their child's knowledge — any accounts that may worry them. The goal, executives say, is to enable parents to monitor their child's connections without compromising teens' autonomy. Named Family Center, the new suite of tools released Tuesday requires both caregiver and teen to opt in.
New York Post: 'Victims of Instagram': Meta faces novel legal threat over teen suicides: Meta is facing a fresh storm of lawsuits that blame Instagram for eating disorders, depression and even suicides among children and teens — and experts say the suits are using a novel argument that could pose a threat to Mark Zuckerberg's social-media empire. The suits — which are full of disturbing stories of teens being barraged by Instagram posts promoting anorexia, self-harm and suicide — rely heavily on leaks by whistleblower Frances Haugen, who last year exposed internal Meta documents showing that Instagram makes body image issues and other mental health problems worse for many teens.
CNET: Kids Are Being Exploited Online Every Day – Sometimes at the Hands of Their ParentsOn TikTok, Instagram and YouTube, some kids are making millions. But any child working as an influencer is at risk of exploitation.: Rachel Barkman's son started accurately identifying different species of mushroom at the age of 2. Together they'd go out into the mossy woods near her home in Vancouver and forage. When it came to occasionally sharing in her TikTok videos her son's enthusiasm and skill for picking mushrooms, she didn't think twice about it — they captured a few cute moments, and many of her 350,000-plus followers seemed to like it. That was until last winter, when a female stranger approached them in the forest, bent down and addressed her son, then 3, by name and asked if he could show her some mushrooms. "I immediately went cold at the realization that I had equipped complete strangers with knowledge of my son that puts him at risk," Barkman said in an interview this past June. This incident, combined with research into the dangers of sharing too much, made her reevaluate her son's presence online. Starting at the beginning of this year, she vowed not to feature his face in future content.
Forbes: TikTok Moderators Are Being Trained Using Graphic Images Of Child Sexual Abuse: A largely unsecured cache of pictures of children being sexually exploited has been made available to third-party TikTok content moderators as a reference guide, former contractors say. Nasser expected to be confronted with some disturbing material during his training to become a content moderator for TikTok. But he was shocked when he and others in his class were shown uncensored, sexually explicit images of children.
Politico: Congress is closer than ever to reining in social media: The fallout from Facebook whistleblower Frances Haugen's explosive testimony about social media's threat to children before the Senate Commerce Committee last fall is coming into focus. There's bipartisan support in Congress to ban targeted ads aimed at kids under 16, require tech firms to establish default safety tools to protect children online and give parents more control over their children's web surfing.
New York Post: Online dangers are rampant for kids today: One of the most important jobs parents have today is keeping their children safe online. As moms and dads prepare to send their kids back to school soon, one critical item needs to be included on the checklist: checking out all online platforms their kids are using — and starting conversations early about cyber safety. Kids and teens between the ages of 8-28 spend about 44.5 hours each week in front of digital screens, according to the nonprofit Center for Parenting Education. This makes it crystal clear that parents need to be tuned in and very educated about what, exactly, their kids are doing during those hours.
CBS News: "It's a crisis": More children suffering mental health issues, challenges of the pandemic: According to the Mental Health Alliance, in 2022, fifteen percent of kids ages 12 to 17 reported experiencing at least one major depressive episode. That was 306,000 more than last year. "It's bad. It's a crisis" said Katherine Lewis, a licensed family therapist at The Bougainvilla House, a nonprofit treatment center in Ft Lauderdale that describes itself as a safe place for children and youth to grow emotionally. To understand why children's mental health is in such a fragile state, CBS4 was given rare access to the center
Newsweek: Too Much Screen Time for Teens Leads to Mental Disorders, New Study Shows: Youngsters who spend a lot of time in front of a screen are at greater risk of developing behavior disorders, warned a new study. Social media is thought to have an especially strong influence and was most likely to be linked to issues such as shoplifting, scientists said. Watching videos and television, playing games, and texting were linked with oppositional defiant disorder (ODD), according to the findings published July 26 in the Journal of Child Psychology and Psychiatry.
Good Housekeeping: The Hidden Danger Behind TikTok's "Product Overload" Cleaning Trend: TikTok is ripe with cleaning inspiration, but one eyebrow-raising trend that has been building steam over the last year now has experts concerned about social media users' safety. Appropriately known as "product overload" by those in the know, the trend — which involves users filming themselves loading up a toilet, bath or sink with copious amounts of astringent cleaning products — has become its own form of ASMR for what's known as the "CleanTok" corner of the platform.
FOX 11 (Los Angeles): TikTok sued by parents of teen who blame platform for child's eating disorder: Another lawsuit was filed Thursday against TikTok, this time by the parents of a girl who allege the social media platform's content is responsible for their 13-year-old daughter's severe eating disorder that required the child's hospitalization and will affect her for life.
The Washington Post: Senate panel advances bills to boost children's safety online: Senators took their first step toward increasing protections for children and teens online on Wednesday, advancing a pair of bipartisan bills that would expand federal safeguards for their personal information and activities on digital platforms. The push gained momentum on Capitol Hill last year after Facebook whistleblower Frances Haugen disclosed internal research suggesting that the company's products at times exacerbated mental health issues for some teens.
ABC News: Wren Eleanor' TikTok trend sees parents removing photos, videos of their kids. An account featuring a 3-year-old has sparked a discussion on online safety.: The families of two teens filed new lawsuits against Meta, the parent company of Instagram, claiming the platform causes eating disorders and is spurring a mental health crisis among young people. A TikTok account with more than 17 million followers has sparked a discussion about children's privacy and safety online.
ABC News: VIDEO: Parents sue TikTok after daughter dies attempting 'blackout' social media challenge: The parents speak exclusively to ABC News about a social media challenge called "blackout" — in which children choke themselves until they pass out. A Wisconsin family is suing TikTok after their 9-year-old daughter died attempting the so-called "blackout challenge" popularized on social media.
Fortune: Instagram and TikTok are wreaking havoc on our finances and happiness, new survey finds: You might have recently purchased athletic gear or a hoodie from an advertisement shared by an online retailer—and immediately regretted it. You're far from alone. Social media impacts consumers' spending habits, according to a new study by Bankrate, with nearly half of users admitting to making an impulse purchase based on a sponsored post.
Tech Crunch: Kids and teens now spend more time watching TikTok than YouTube, new data shows: Kids and teens are now spending more time watching videos on TikTok than on YouTube. In fact, that's been the case since June 2020 — the month when TikTok began to outrank YouTube in terms of the average minutes per day people ages 4 through 18 spent accessing these two competitive video platforms.
Variety: TikTok Will Add Adult-Content Warning Labels to Videos With 'Overtly Mature Themes': TikTok is giving users of the popular app more controls over the kinds of videos they see in their feed — including flagging videos with "mature or complex themes" intended for viewers 18 and older. TikTok's Community Guidelines detail categories of content that is banned by the platform, including nudity, pornography and sexually explicit content.
Forbes: TikTok: America's Drug Of Choice: A recent report that TikTok's American user data is routinely accessed by Chinese employees comes as no surprise. China's global technology companies have long engaged in persistent data sharing thereby giving the Chinese government eyes and ears around the world.
New York Post: Alarming TikTok trend sees parents ask kids to help them fight: The first rule of Fight Club is you do not talk about Fight Club, but these parents are posting on TikTok. A new trend on the video-sharing app that involves parents asking their kids to defend them in a fight has divided users, with some saying it's promoting violence in young children. The trend — and the hashtag #fightprank — has over 24.8 million views on TikTok.
Tech Crunch: Children's rights groups call out TikTok's 'design discrimination': Research examining default settings and terms & conditions offered to minors by social media giants TikTok, WhatsApp and Instagram across 14 different countries — including the US, Brazil, Indonesia and the UK — has found the three platforms do not offer same level of privacy and safety protections for children across all the markets where they operate.
New York Post: TikTok sued after young girls die in 'blackout challenge': TikTok is facing wrongful death lawsuits after two young girls killed themselves trying to recreate "blackout challenge" videos they watched on the platform. Lalani Erika Walton, 8, and Arriani Jaileen Arroyo, 9, both wound up dead after watching hours of the videos featuring the challenge fed to them by TikTok's algorithm, the suits allege, the Los Angeles Times reported.
CNN: An FCC regulator wants TikTok removed from app stores. Here's how a company executive responded: While TikTok's short-form videos are entertaining, that's "just the sheep's clothing," a Federal Communications Commission official said, and the app should be removed from app stores because of security issues. But a TikTok executive, in a rare interview on CNN's "Reliable Sources" on Sunday, claimed there are no security concerns linked to the hugely successful app.
Forbes: Hugely Popular NGL App Offers Teenagers Anonymity In Comments About Each Other: A new app that allows Instagram users to send anonymous messages is soaring in popularity – and renewing concerns about cyberbullying and harassment that plagued previous apps allowing teens to comment on one another without attribution.
WTAE-TV: VIDEO: Charleroi man accused of luring three young girls through Snapchat: Police say Brandon Johnson, 35, drove girls to a Connellsville hotel: Connellsville police said a 35-year-old Charleroi man used Snapchat to lure three young girls to an area hotel last weekend.
US Attorney's Office: Philadelphia Man Convicted of Sex Trafficking a Minor on Backpage.com: United States Attorney Jennifer Arbittier Williams announced that a man was convicted at trial of sex trafficking, arising from his forcible coercion of a minor to engage in prostitution. The defendant and the victim first met on a digital social networking application in June 2016.
WTAE-TV (Pittsburgh): North Dakota man accused of sexually exploiting 13-year-old Washington County girl: A North Dakota man has been indicted on charges of child pornography and sexual exploitation of a 13-year-old girl from Washington County. Nicholas Nesdahl, 27, was being held in a jail in North Dakota on Friday awaiting extradition to the Pittsburgh area. In October 2021, a woman reported to Peters Township police that she found troubling videos on her daughter's cellphone.
PA Police Warn Of Dangerous TikTok Challenge With Gel Gun: Police departments all over are warning folks about a dangerous social media challenge urging users to shoot modified pellet guns at people.
PA State Rep. Hit By Pellets While Walking Dog: As multiple police agencies were investigating a shooting at Erie High School, Rep. Pat Harkins was walking his dog Barry, just several blocks away.
FBI Pittsburgh Warns of Increase in Sextortion Schemes Targeting Teenage Boys: The FBI Pittsburgh Field Office is warning parents and caregivers about an increase in incidents in the Pittsburgh area involving sextortion of teenagers. The FBI is receiving an increasing number of reports of adults posing as age-appropriate females coercing young boys through social media to produce sexual images and videos and then extorting money from them.
Dad Warns Parents After Son, 12, Dies from 'Blackout Challenge': 'Check Out' Your Kids' Phones "This is a weapon in our home that people don't know about," says Haileyesus Zeryihun.
Vague TikTok threats bring police presence to local schools: Law enforcement and schools are taking extra precautions amid an apparent TikTok trend threatening violence nationwide on Friday.
12-Year-Old Boy Who Burned 35 Percent of Body in TikTok 'Fire Challenge' Tells Kids 'Not to Be a Follower': Nick Howell spent almost six months in and out of the hospital and had 50 surgeries
Easton Express-Times: Slate Belt teen faces 20 child porn counts in Pa. Attorney General's Office probe: An 18-year-old Slate Belt man faces numerous charges of possessing child pornography after a months-long investigation by the Pennsylvania Attorney General's Office
---