Ending the Stigma Around Child Abuse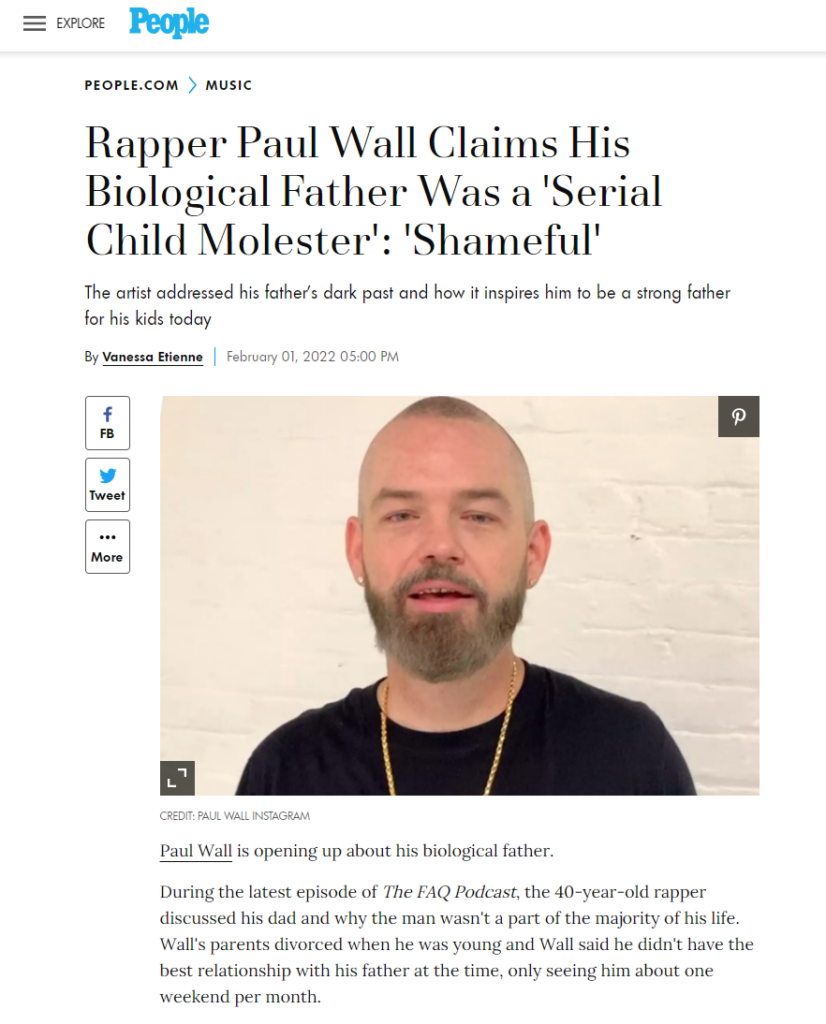 A classic stereotype is that men are supposed to be tough, stoic and that they do not talk much—if at all—about abuses that they or those in their family might have faced. This stereotype is often true in the rap and hip-hop community.
However, rapper Paul Wall, who was very popular in the mid-2000s recently detailed his family's history of abuse in an interview. On a recent episode of The FAQ Podcast, Wall revealed that his father was not really in his life growing up, largely do his father's actions. He said that his dad was a "serial child molester" and began abusing a girl who was around 12 years old, married her when she was around 14 years old, before taking her to Canada where he allegedly lives to this day.
As he was growing up, Wall was not aware of his father's actions, but learned about it when he got older. After finding out, Wall said he was embarrassed and filled with shame for being related to someone that would treat children in that manner.
A lack of dialogue about the issue of child abuse is a barrier that can make knowing what to do difficult if you suspect child abuse is taking place. Learning warning signs is the first step in acting against it. Some common warning signs of abuse are:
Unexplained bruises, welts, human bite marks, bald spots
Numerous bruises in various stages of healing
Marks on many surfaces of the body
Unexplained burns, especially cigarette or immersion burns
Withdrawal or aggression – behavioral extremes
Not wanting to talk about their home life
Pain or itching in the genital area
Bruises or bleeding in the external genitalia
Frequent urinary or yeast infections
Torn, stained, or bloody underclothing
Speaking out about a subject like child sexual abuse, especially when it involves a parent or family member, is complex. In Paul Wall's case, it would have been easy for him to remain silent about his father's alleged abuses, keep the issue private, and not disclose anything to the public. However, by being a celebrity and talking openly about how child abuse impacted his family, he hopefully helped to breakdown the stigma of how men—especially those in the rap and hip-hop community—deal with the issue.
If you suspect that a child in your life is being abused, you can report it anonymously to Pennsylvania's ChildLine at 1-800-932-0313.