This time of year can pass quickly, making it difficult to appreciate the recent year and all that has been accomplished, but our team would like to encourage everyone to take some time, slow down, and soak in the gift of presence. Presence helps us to appreciate and connect with those around us – especially our families.
Phases come and go and there is always a new challenge ahead that parents and caregivers must prepare for, but parents also want to soak in the current stage and be present for their child. As parents, we would never want to miss our child growing up because we are only focused on the future because we know that how present we are with our children today shows up for our children tomorrow.
Presence will look different for everyone and will have a unique impact on each of us. But during this time of year when life is hectic, schedules are busy, distractions are plentiful, and a list of gifts to give is at top of mind, give yourself and your family the most important gift of all and choose to focus on presence.
Here are some ideas for giving the gift of presence to your family this holiday season:
Gather together over cups of hot cocoa and tell stories of your memories as a child to your children and grandchildren.
Call or video chat relatives that you haven't spoken to for a while or who live a distance away. Focus on your appreciation for them and have a story or two of past holidays you spent with them to reminisce over.
Write a gratitude letter to each person in your home and read it out loud to them.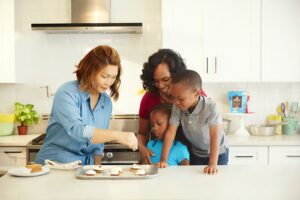 Choose one or two crafts to do together as a family. Crafts that result in a holiday decoration can be especially memorable for years to come.
Set aside time to read together as a family. If you have a Christmas tree – sitting around the tree while reading can be very memorable for the children.
Play an instrument, sing or play music together as a family.
Drive around as a family and look at local light displays.
Make cookies and/or a gingerbread house together.
Anything your family enjoys doing together – make time for it!