Child Abuse & Neglect: Insights on the 2022 Pa. DHS Child Protective Services Report
The recent release of the annual Child Protective Services report from the Pennsylvania Department of Human Services (DHS) "provides a picture of the challenges we face in eradicating child abuse," as Gov. Josh Shapiro and DHS Secretary Val Arkoosh, MD, MPH wrote in the report's welcome letter. And while the 2022 report shows that there are still complicated challenges, it also contains signs of progress to ensuring Pennsylvania's youngest and most vulnerable thrive in environments free of child abuse and neglect.
Suspected child abuse cases slightly increased in 2022, according to the DHS report, and Angela Liddle, PFSA President and CEO, talked about the uptick in a recent appearance on WITF's "The Spark":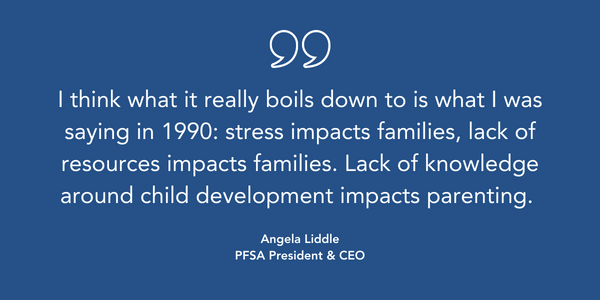 Angela told "The Spark" host Scott Lamar that child neglect is becoming more common — not just in Pennsylvania, but the entire country — especially among families with children aged 5 or younger, a group that unfortunately was impacted by the most fatalities and near fatalities. Sixty children in 2022 died and 138 children nearly died as a result of child abuse and neglect, according to the DHS report.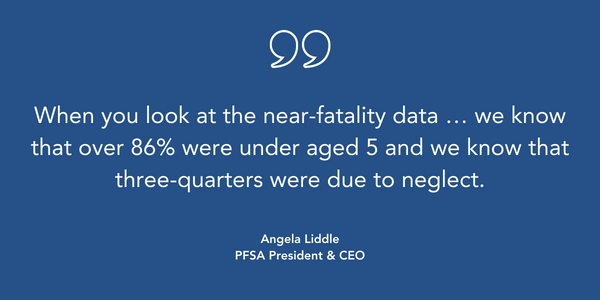 Neglect, Angela said, takes many forms, including:
Lack of supervision
Ingestion of prescription medication and/or illegal drugs
A delay or failure to seek medical attention
Co-sleeping with a child
Unsecured guns
The rise in neglect was the impetus behind PFSA's new Recognizing and Responding to Child Abuse and Neglect training for mandated reporters, so that professionals and volunteers better understand neglect and how best to respond. External factors also play a role in fostering neglect, with inflation and economic challenges also compounding challenges for many parents. As Angela told Scott Lamar: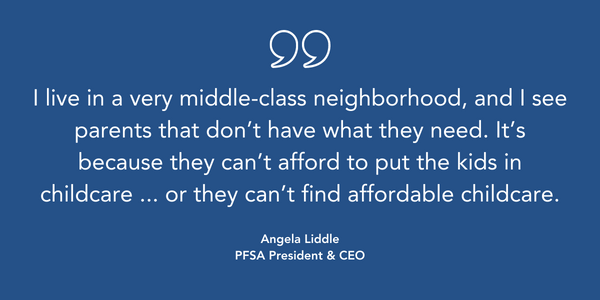 But, the report shows signs of progress. Mandated reporters — or those who Pennsylvania law requires to report suspected abuse or neglect — were the source of 82% of all suspected child abuse reports in 2022, which is great to see as mandated reporters are often a child's only link to being removed from an abusive or neglectful environment. But it will take each Pennsylvanian helping to fully eradicate child abuse and neglect.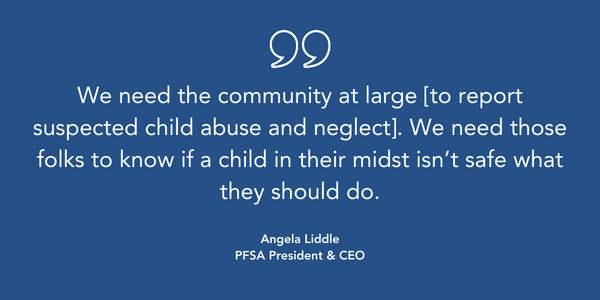 The Front Porch Project® from PFSA does just that: it provides community members with the knowledge, training, and encouragement they need to take active roles in preventing abuse and neglect before it begins. As Angela told Scott Lamar: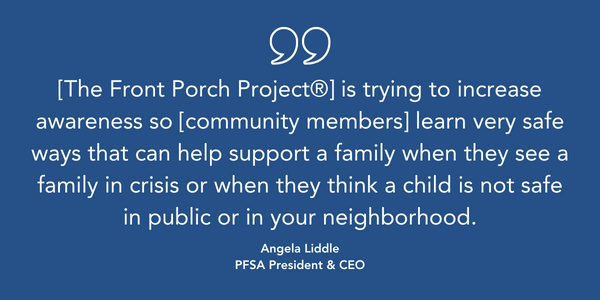 If you suspect a child is being abused or neglected, please call ChildLine, Pennsylvania's 24/7 child abuse and neglect hotline, at 1 (800) 932-0313 or find more ways to report child abuse.