Prioritizing Family Digital Wellness to Protect Children Online
Kids aged 8 to 12 spend over five hours per day on screens. With this excessive screen time raising mental health worries, the American Psychological Association has recommended mandatory training for kids before they sign up for an account.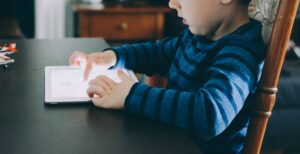 Researchers and psychologists aren't the only ones with worries: lawmakers too are focused on controlling social media's impact on children. U.S. House Republicans want to ban kids under 16 from having social media accounts, while Pennsylvania Senators Kristin Phillips-Hill (R-York) and Vincent Hughes (D-Philadelphia) introduced bipartisan legislation to give parents more control over what their kids are seeing and posting.
Legislation alone isn't enough. To protect children online, we need to prioritize Family Digital Wellness through education and training. While legislation is important, it does not help to create a foundation for digital wellness. Furthermore, children can bypass parental controls in many instances. Education and training are vital to ensure safe and constructive use of digital technology. Combining legislation with proactive measures and ongoing awareness is key to effective child protection.
What is Family Digital Wellness? Recognizing social media's impact, the PA Family Support Alliance launched the Family Digital Wellness hub. It equips parents, caregivers, and communities with tools to keep Pennsylvania's children safe online. Merely limiting screen time isn't sufficient. We must understand risks, address urgent needs, implement safety plans, prevent future threats, and model healthy digital interactions.
Want to learn more about Digital Family Wellness? Watch the short video below for practical tips for protecting children in the digital world. Be sure to check out our Family Digital Wellness hub for more resources and information.