The Blue Ribbon as a National Child Abuse Prevention Symbol
History of the Child Abuse Blue Ribbon
When you look back in our nation's history, many of the changemakers are often grandmothers! While her name is not commonly known, Bonnie Finney is one of those changemakers.
In 1989, Finney tied a blue ribbon to the antenna of her minivan as a way to honor her grandson, Michael Wayne "Bubba" Dickenson, who tragically lost his life because of the abuse he endured. Bubba was 3 years old when he was found in a horrific state: bound and beaten in a weighted toolbox at the bottom of a local Norfolk, Virginia canal. Bonnie tried desperately to intervene during his young life because she knew that Bubba and his siblings lived in an abusive home.
While Bonnie's efforts to stop her grandson's abuse did not work, local businesses, schools, churches, and social service agencies began displaying the blue ribbon as a way to spread awareness about child abuse prevention. From town to town, state to state, the blue ribbon became a national child abuse awareness symbol.
In the four decades that have passed, Bonnie's work to educate communities inspired a movement with April becoming National Child Abuse Prevention Month. In fact, the blue ribbon continues to be the international child abuse awareness symbol.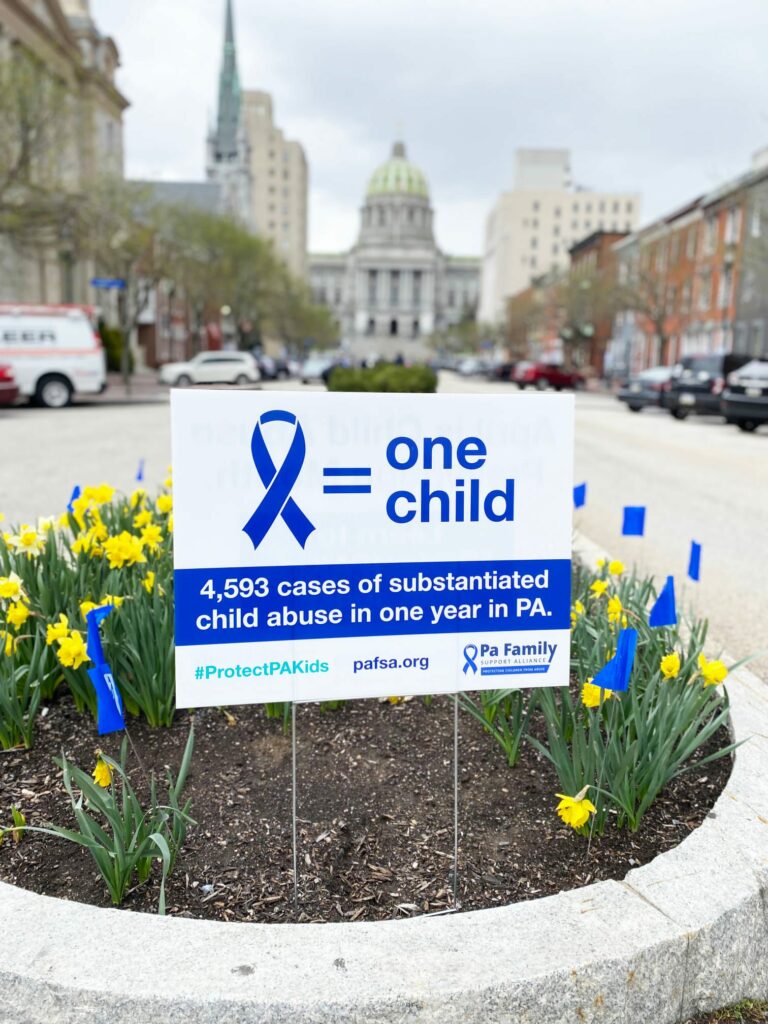 ---
History of PFSA and Why We Use the Blue Ribbon Symbol
When Pennsylvania Family Support Alliance (PFSA) was launched in 1979 as Parents Anonymous of Pennsylvania, the topic of child abuse was rarely discussed openly. We pride ourselves on having been one of the first organizations in the Commonwealth that publicly advocated for stronger child abuse prevention laws, and we demanded that our leaders and institutions addressed the issue head-on. Since then, we have seen enormous strides in our state, but there is still more work to be done.
One of the ways that PFSA advocates for child abuse prevention is through education. That is why our logo centers on the blue ribbon, the symbol of child abuse prevention. We firmly believe that each and every single one of us has a role to play in preventing child abuse. For us, the blue ribbon is personal. Wearing the blue ribbon is a visual way for individuals to demonstrate that they are taking a stand against child abuse and encouraging others to do the same.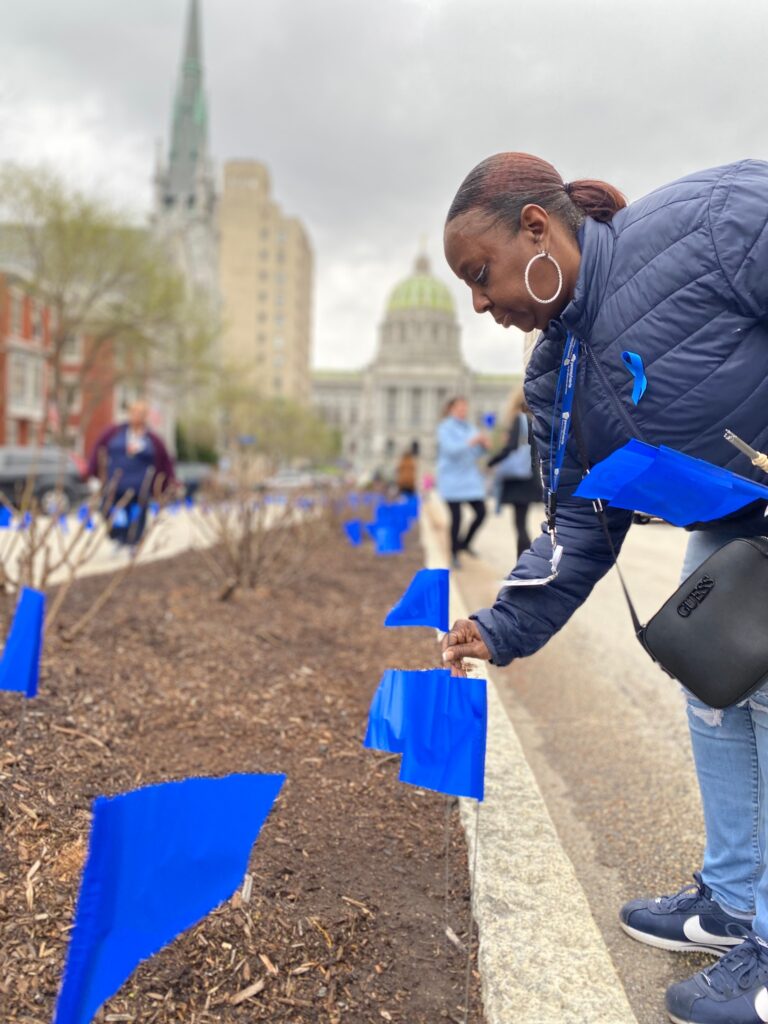 ---
The Child Abuse Blue Ribbon Campaign: How We Use It in Pennsylvania
As a leader in protecting Pennsylvania's children against child abuse, PFSA works year-round to educate communities and advocate for at-risk children. We have distributed thousands of blue ribbons, a national child abuse prevention symbol, to private and public organizations, agencies, individuals, and government leaders for decades. It continues to be a way for us to raise awareness about child abuse prevention, and the importance of every individual taking action when something does not seem right. Chances are if you have seen blue ribbons, blue flags, and billboards for #ProtectPAKids across the Commonwealth—that's us!
Every April, PFSA is at the forefront of observing Child Abuse Prevention Month in Pennsylvania. Throughout the month, we honor Blue Ribbon Champions for Safe Kids. We recognize these individuals because of their exceptional contributions to preventing childhood neglect and abuse. During the month, we also plant blue ribbons and blue flags on the grounds of the Capitol to raise awareness about child abuse.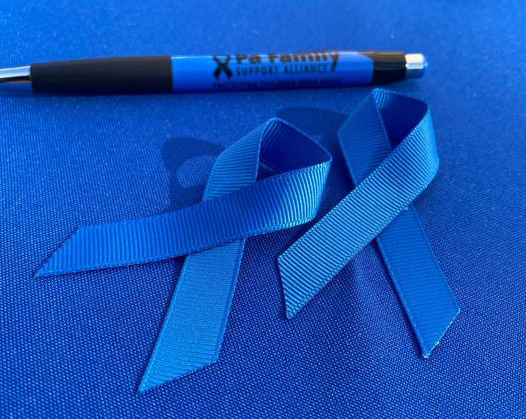 ---
Why are Blue Pinwheels used?
While the blue ribbon has been used as a national symbol of child abuse prevention for decades, you might see that some organizations use blue pinwheels. These pinwheels, often called pinwheels for prevention, symbolize the joy and playfulness of what childhood should be, along with the cyclical nature of love and support that all families should be trying to create for their children. Communities use pinwheels to demonstrate that their neighborhoods and towns support child abuse prevention. The blue ribbon, in comparison, is a child abuse prevention symbol used as a personal reminder that we are all individually responsible for protecting the children in our lives.