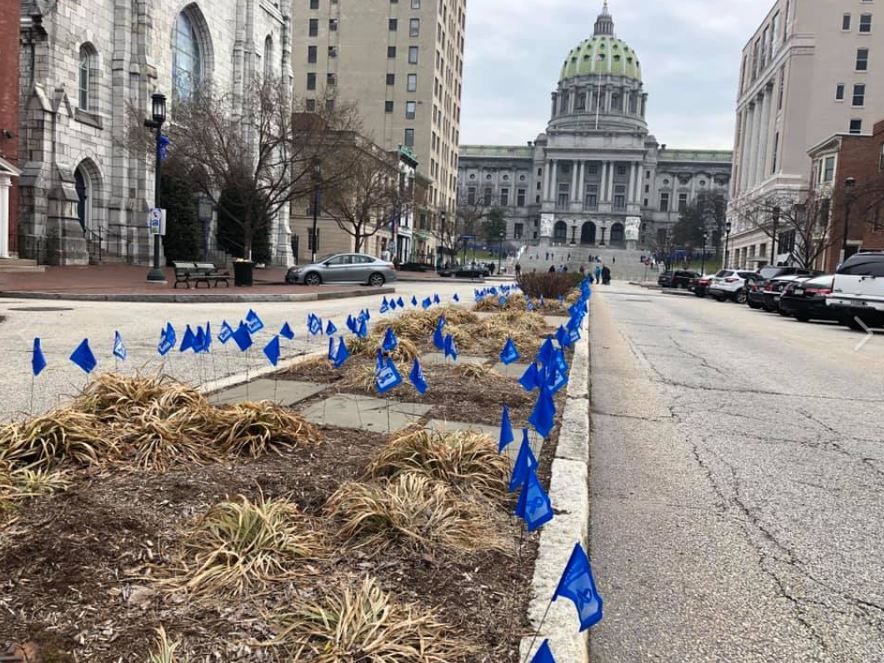 In April, we observe National Child Abuse Prevention Month and typically have our annual PA Blue Ribbon Champions for Safe Kids ceremony in the Capitol rotunda in Harrisburg. Due to COVID-19, this event has looked very different for the past two years. In 2021, we recognized community leaders dedicated to protecting PA children from abuse and neglect with a virtual, month-long event. We awarded and honored a new Blue-Ribbon Champion for Safe Kids to five committed citizens:
Lauren Lazzari, a Parents as Teachers Educator at Beginnings, Inc. where she provides families with resources, teachings, trainings on sexual abuse prevention, and center-based family instruction. View Lazzari's acceptance video here.
Jeanine Rasky, the former System Integration Director for the Allegheny County Department of Human Services. Now retired, Rasky worked to create and sustain the county's Youth Support Partner Unit to hire young adults with experiences in the child welfare system. View Rasky's acceptance video here.
Casey Stokes-Rodriguez, a Licensed Social Worker in the Harrisburg School District who works as a school culture, climate, and trauma resource specialist. Stokes-Rodriguez works to ensure all students have a safe environment to turn to for support. View Stokes-Rodriguez's acceptance video here.
Leslie Holt, founder and director of A Child's Light, a non-profit focusing on funding mental health treatment for children who are victims of sexual assault or domestic abuse. A Child's Light supports Chester County Children between the ages of 2-18 years old. View Holt's acceptance video here.
Lisa Gartner, former reporter at the Philadelphia Inquirer that investigated the allegations of abuse at child Glen Mills, Devereux, and other facilities
In addition to recognizing the important work of several community members preventing child abuse, a limited group made up of PFSA staff, members of our board of directors, and volunteers, planted flags at the Harrisburg State Capitol to honor Pennsylvania child abuse victims as part of our annual flag-planting effort.
We also hosted our Spotlight Speaker Series featuring presentations from Victor Vieth, Erin Merryn, Joseph Robinson Jr., LaCrisha Rose, and William J. Zee. Our Blue-Ribbon Virtual Fundraiser empowered community members to help combat child abuse by purchasing a blue ribbon in honor of child abuse victims to support our programs and services, including education, training, and support to community-based organizations across the state. Thank you to every community member who donated to #ProtectPAKids!
In lieu of an in-person ceremony at the Capitol with guest speakers, advocates from across Pennsylvania recorded special video messages to help bring awareness to National Child Abuse Prevention Month:
Pennsylvania Attorney General Josh Shapiro
Secretary Teresa Miller, Pennsylvania Department of Human Services
Deputy Secretary Jon Rubin, Pennsylvania Department of Human Services
Representative Sheryl Delozier
Pennsylvania Second Lady Gisele Barreto Fetterman
Representative Pamela DeLissio
Senator Judy Ward
Senator Maria Collett
Secretary Ortega, Pennsylvania Department of Education
While April helped us spark conversations around preventing child abuse, the work to keep children safe from abuse and neglect requires each of us to remain vigilant every day of every year. Everyone has the shared responsibility to look for and report any signs of child abuse or neglect. There is much work we must continue to do together. We want to empower every Pennsylvanian to take an active position in preventing abuse, strength our communities and families, and help everyone learn how to report child abuse to ChildLine, Pennsylvania's 24/7 reporting hotline at 800-932-0313. If you see something, say something. For more information on recognizing the signs of abuse and neglect, click here.