How to Talk to Your Kids About Juneteenth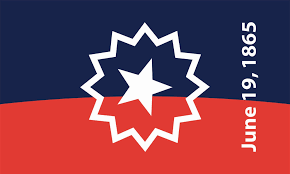 Juneteenth is now a federal holiday for all Americans to commemorate the end of slavery, however it is not an event most of us were taught about in history class. What is Juneteenth and how do we answer questions from our kids about this "new" holiday? Here is your quick history lesson on Juneteenth and tips for talking to your kids about it!
History – Learn it so you can share it!
Juneteenth commemorates the events of June 19, 1865, when Gordon Granger, a Union general, arrived in Galveston, Texas, to inform enslaved African Americans of their freedom after the Civil War had ended. Juneteenth (a combination of June and 19th) commemorates the legal end of slavery in the United States. This day has been celebrated by Black Americans since the late 1800s, but it became a federal holiday in 2021.
Why is discussing Juneteenth Important?
One cannot talk about Juneteenth without also talking about race and racism, which can be difficult, but it is so, so important! Racism and slavery are an ugly part of American history that most of us are not eager to talk about with our kids and for good reason – it is uncomfortable and difficult to help kids understand. But we NEED to talk about it. For young Black children, learning about their history can help them develop a positive racial identity, provided it is done in an uplifting, empowering, and inclusive manner. For young white children, learning about historical racism and slavery interrupts any false sense of racial superiority. If we choose not to talk about it, our silence is still talking about it – but in a way that our kids learn to ignore or dismiss the importance of this holiday/historical event and potentially create incorrect thoughts and biases about it.
Importance of Conversations
Conversation is key! Talk with your kids about the history and "why" behind this holiday. The conversation should be natural and comfortable, so your kids feel free to ask questions. If you are not sure about an answer, look it up and get back to them with the answer. You do not know what questions they may have until they ask them. Although some questions, such as "Will we ever be slaves again?" may be difficult to hear, kids need the space and time to ask as they learn and process all the information. Be sure to check in on how they are feeling with these big concepts too!
Celebrate as a Family
Regardless of your background, you can celebrate Juneteenth! Print off a copy of the Juneteenth flag or one of these other free Juneteenth coloring pages and have the kids color it while you discuss Juneteenth. Connect with others in your community through local celebrations, supporting a Black-owned business, or connecting directly with other families in creative ways to celebrate this holiday together. For books, podcasts, and other media recommendations on this topic, check out PBS for parents.